Robert J. Frassetto
Partner
Location:
Phone:
Fax:
Email:
Oakland, California
510-817-0465
855-710-7474
Email Me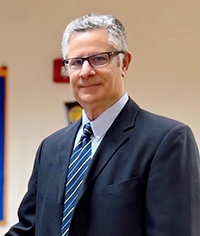 Admitted to the California Bar in 1982, Robert Frassetto regularly defends major professional sports organizations, national commercial retailers, colleges, universities and other educational institutions, consumer and industrial product manufacturers, private residential and commercial property owners, and large and small business organizations. Mr. Frassetto's practice integrates remarkably diverse litigation experience throughout Northern and Central California, where he has defended claims involving personal injury, intentional tort, premises liability, strict product liability, closed head injury, sports, leisure, recreational and entertainment liability, catastrophic loss, wrongful death, fire, design professional liability, construction defect and delay, ADA, Unfair Business Practices (B&P Section 17200), environmental and multiple chemical exposure claims (including Proposition 65), and Medicare issues in third party litigation.
Mr. Frassetto's Martindale-Hubbell peer review rating is "AV Preeminent."
Since 1996, Mr. Frassetto has served both as a private and court-appointed mediator, assisting litigants and courts to resolve an array of tort and contract disputes. In addition to providing private mediation services, he has served as a Panel Mediator, California Court of Appeal, First Appellate District; Settlement Mentor and Panel Mediator, Contra Costa County Superior Court; Day-of-Trial Settlement Mentor/Mediator, Alameda County Superior Court; and Panel Arbitrator, Alameda County Bar Association Attorney-Client Fee Dispute Committee.
Mr. Frassetto served on the Boards of Directors of the Alameda County Bar Association (2010-2014) and Friends of UCLA Rowing (2004-present). He has also served as a Director (2002-2007) and two-term Education Committee Chair (2004, 2005) of the Association of Defense Counsel of Northern California and Nevada ("ADCNC"). He is a past two-term Chair of the Alameda County Bar Association Alternative Dispute Resolution Section. He is a member of the Bar Associations of Alameda, Contra Costa, Monterey, and San Francisco Counties, the State Bar of California, the ADCNC, and the Defense Research Institute (DRI).
Mr. Frassetto regularly makes continuing education presentations to professional groups, trade associations, and claims organizations and he has written and lectured on a variety of subjects, including effective cross-examination techniques, legal ethics, neck and back injury claims, closed head injuries, how to take a pre-litigation statement effectively, indoor air quality, the language of negotiation, mediation, and California's adoption of CACI jury instructions.
Mr. Frassetto is one of six founding members of the 2006 grass-roots Medicare Reform Task Force which formed the Medicare Advocacy Recovery Coalition (MARC) in 2008 to advocate the improvement of the Medicare Secondary Payer program for beneficiaries and affected companies.
A California native, Mr. Frassetto attended law school at Santa Clara University (J.D., 1982), where he was awarded the American Jurisprudence Award in Torts and served both as Comments Editor of the Santa Clara Law Review and Editor-in-Chief of The Advocate; and at Magdalen College, Oxford University (1980). He completed his undergraduate education at UCLA (B.A., 1979, English Lit.), where he also earned three NCAA Varsity letters, served as Team Captain (Rowing) for three years, and was awarded Most Valuable Oarsman his Senior year.
Areas of Practice
Personal Injury
Intentional Tort
Premises Liability
Strict Product Liability
Closed Head Injury
Sports, Leisure, Recreational and Entertainment Liability
Catastrophic Loss
Wrongful Death
Design Professional Liability
Construction Defect and Delay
ADA
Unfair Business Practices (B&P Section 17200)
Environmental and Multiple Chemical Exposure Claims (including Proposition 65)
Medicare issues in third party litigation
Bar Admissions
California, 1982
U.S. District Court Northern District of California, 1982
U.S. District Court Eastern District of California, 1998
U.S. District Court Central District of California, 1999
Education
Santa Clara University School of Law, Santa Clara, California
J.D. – 1982
Honors: American Jurisprudence Award, Torts
Honors: The Advocate, Editor-in-Chief
Law Review: Santa Clara Law Review, Comments Editor
Magdalen College, Oxford University – 1980
Major: Jurisprudence, Computers in Law
University of California, Los Angeles, California
B.A. – 1979
Honors: UCLA Men's Rowing Team
Honors: Freshman Team Captain
Honors: Varsity Team Captain (two years)
Honors: Most Valuable Oarsman (1978)
Major: English Literature
Honors and Awards
Martindale-Hubbell peer review rating is "AV Preeminent"
Thomson Reuters Northern California "Super Lawyer" – Defense Litigation and Mediation
Professional Associations and Memberships
Bar Associations of Alameda, Contra Costa, Monterey, and San Francisco Counties, Member
Alameda County Bar Association, President, 2014
Alameda County Bar Association, Vice-president, 2013
Alameda County Bar Association, Director, 2010 – 2012
California Court of Appeal, First Appellate District, Panel Mediator, 2003 – 2012
Alameda County Bar Association Alternative Dispute Resolution Section, Two-term Chair, 2009 – 2010
Contra Costa County Superior Court, Settlement Mentor – Panel Mediator, 1996 – 2012
Alameda County Bar Association Attorney – Client Fee Dispute Committee, Panel Arbitrator and former Vice-Chair, 1990 – 2013
Association of Defense Counsel of Northern California and Nevada, Member, Director, 2002 – 2007
Association of Defense Counsel of Northern California and Nevada, Education Committee Chair, 2004 – 2005
Friends of UCLA Rowing (FOUR), Director, 2004 – Present
Defense Research Institute, Member
Medicare Reform Task Force – Medicare Advocacy Recovery Coalition (MARC), Founding Member